Anthropologie South Beach Building Envelope
This landmark structure in the hard of South Beach in Miami on Lincoln Road was custom designed for Crawford Tracey Corporation.
Interior Hard Rock Glass
Engineering Express designed & Inspected these stunning interior curved glass at the Hard Rock 'Guitar' Casino in Hollywood Florida. We also produced a podcast about this, click here for the episode.
Greene Centre at Lakewood Ranch
Over 100 feet of suspended walkway covers was custom designed for the Green Centre at Lakewood Ranch in Lakewood Ranch, FL. Awning designs were hung from custom reinforced soffits which span nearly 14 feet in this high wind area. Designs like this are performed by the firm every day for projects like this across the US.
Glass & Solid Roof Walkway Covers & Wall Glazing for Royal Caribbean Terminal, Fort Lauderdale, FL
While this image illustrates a small portion of the mixed glass & solid roof walkway covers that allow passengers to travel to the terminal under-roof, Engineering Express also custom-designed glazing & product approvals specifically for this high-profile Royal Caribbean Terminal project in Fort Lauderdale, FL. Work was painstakingly reviewed, installed, & inspected to ensure a world-class port of entry for international visitors.
Custom Chain Link Fence and Gates for Lion Country Safari
Engineering express was challenged with the design of custom chain link fences & gates to secure the kings of the jungle at the Lion County Safari in West Palm Beach, FL. These 20 foot fences were designed for high winds as well as to continue underground and across the field to prevent the lions from digging under the fences. The fences transverse the entire perimeter of the facility.
One-of-a-Kind Walkway Covers For the South Florida Water Management District
It takes a one-of-a-kind company to design these one-of-a-kind walkway covers, pergolas, and porte cochere's for the South Florida Water Management District in West Palm Beach, FL. This photo is a small piece of this large scale project. Engineering Express designs projects like this across the US.
Carrier Center For Intelligent Buildings Custom Walkway Cover
This project deserves honorable mention, designing this 2nd story covered walkway cover with louvered walls for the Carrier Center for Intelligent Buildings in Palm Beach Gardens, FL. Engineering Express navigated both high winds, custom above-grade connections, and impact to the host structure for this project. We design projects like this for wind, snow, & seismic loads across the US.
South Florida Transportation Authority Walkway Covers
A single photo can't describe the variety and volume of walkway covers for the S FL Transportation Authority in Pompano Beach, FL. Multi-level walkway covers both freestanding & host attached as well as suspended awnings sprawl over the entire high wind zone facility.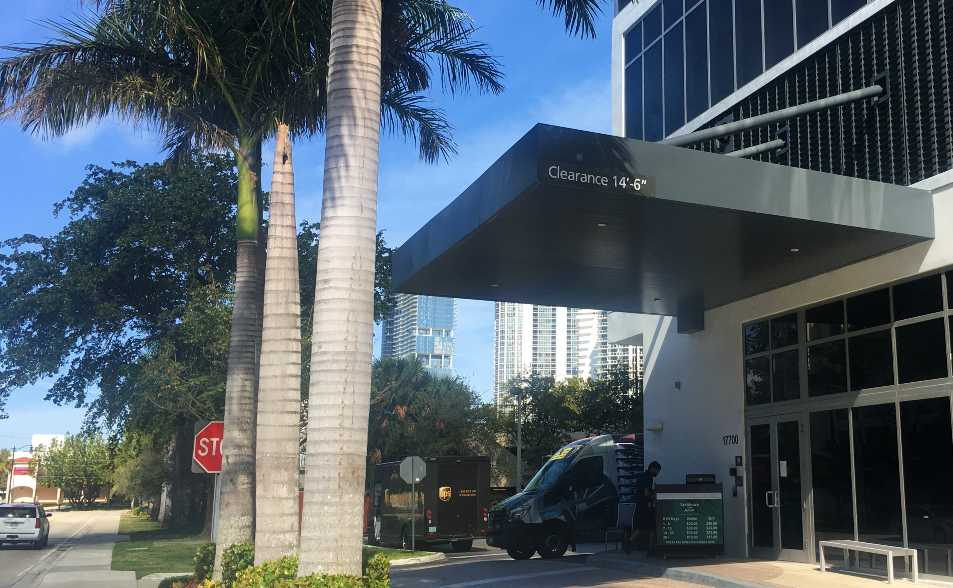 Suspended Canopy – Marriott Residence Inn, Miami, FL
It wasn't that we just designed this 20 foot suspended canopy for the Marriott Residence Inn on Collins Avenue in Miami, FL, but we had to design it to the toughest wind standards in the US for the beach in Miami, FL with full calculations that were intensely scrutinized. The structure was also angled and on a high-rise commercial structure adding to the complexity. Design by Zach Rubin, PE.
One Of A Kind Glazing Design for Joe Dimaggio Hospital in Miami
Special attention to detail was needed to execute this stunning segmented glass design. Engineering Express provided full shop drawings and engineering for this project for Crawford Tracey Corporation.