Signage – Ground Mounted Client Checklist
Engineering Express evaluates ground-mounted signs for structural stability.  To do this, we require a drawing detailing the structural members and connections as detailed below in order to quote and execute work.
All of the information below must be provided or addressed in this drawing – an architectural detail, sketch or rendering may not be sufficient. Without the listed information below, additional coordination, fees, and time delays will accrue or we a rejection of request to quote the work if not satisfactorily provided.
Please submit a complete drawing set with details showing the information indicated below:
Project:

Project name, location, & address
Project-specific conditions & limitations (if applicable)

Sign:

Provide dimensioned drawing of sign and all attached components
Detail is to be clear about any open / porous sections

Post:

Show quantity & spacing of post(s)
Show material & grade of post(s)
Show size, shape, & thickness of post(s)
Show structural connection of post (Embed in concrete or Baseplate mounted)

Baseplate (if applicable):

Show size, thickness, and material
Show any proposed welds and additional gussets
Show anchor spacing and location
List proposed anchors (EX will check and confirm)

Concrete Footing:

Show size & shape of concrete footing or height from grade and host structure material

Sign assumed centered on footing unless noted otherwise

Show proposed reinforcement (if applicable)
Show surrounding slab or soil conditions
Provide detailed structural information about any special case supporting connections

Other & Non-structural:

Provide supporting soil conditions (if available)
The electrical code required & county-specific information
Any other information to be listed such as sign color, installation instructions, etc.

This information is to be included for reference only
Structural certification is only for sign support & connection to base.
Certification of sign cabinet integrity to be provided separately
Also see our useful Sign Post-Connection-Footing Calculator available by membership.  Contact Us to learn more.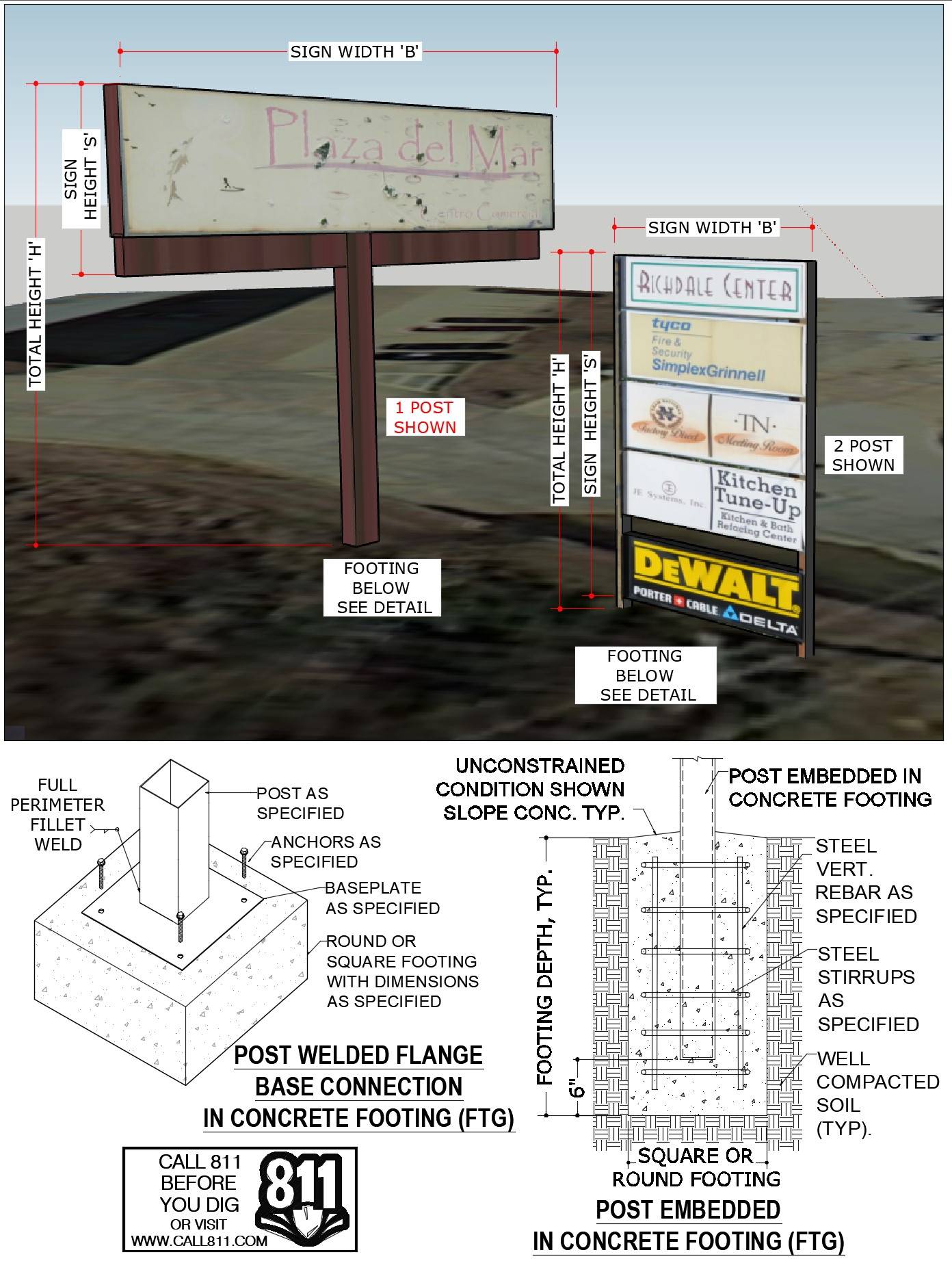 Last Update: June 26, 2021
Tell us how can we improve this post?